Take Your Business to the Next Level with a 2023 Ford E-Transit Van Available at Keller Ford
You're committed to your business, and Keller Ford stands right behind you with vehicles made specifically for commercial use. We recommend the new 2023 Ford E-Transit for business professionals in Hanford because of its versatility, flexibility, and affordability. Having an office on the go, ample space to store your business tools, and room for exterior advertising are just a few advantages of the new 2023 Ford E-Transit. Additional benefits of the 2023 Ford E-Transit are further detailed below.
Interior Benefits
Many of the interior features of the new 2023 Ford E-Transit are beneficial for buyers near Lemoore and their business. Rain-sensing windshield wipers make it easy to do business and travel to work destinations in less desirable weather. Optional intelligent access with push-button start makes it easy to enter the E-Transit during bad weather conditions or quickly on dark nights. All-weather floor mats are also available to protect the floor and make cleaning easy, while foldable aluminum shelving on the driver's and passenger's sides creates more room for storage.
Exterior Options
Known for providing many exterior selections for buyers near Tulare, the 2023 Ford E-Transit is highly customizable in a way that allows it to be modified for your specific business endeavors. Three roof options that include a low, medium, and high stature give you variations of heights that allow for passenger maneuvering within and can modify the electric range capability for each option. Also, you'll have a choice of nine exterior colors to sport in the new Ford E-Transit as you scoot around town, including Blue Mist and Race Red hues. Three length options are also available in the cargo van layout, consisting of a regular, a long, and an extended length. An available power-sliding door on the side enhances the convenience of loading and unloading cargo.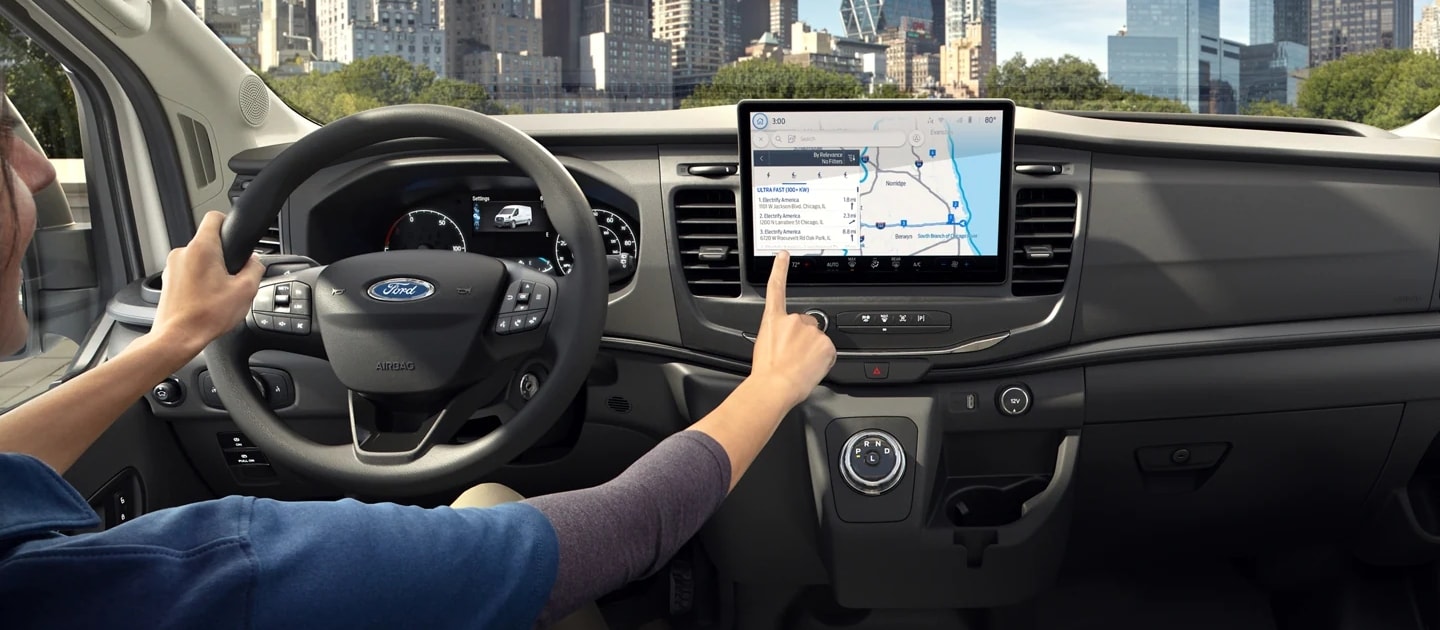 E-Transit Technology
E-Transit Technology
The 2023 Ford E-Transit is quite tech-savvy, as is evident in its inclusion of a 12-inch touchscreen complete with a Sync4 interface and voice-activated directions. Ford Power Up software allows you to always be on the go with its automatic update implementation that optimizes app functionality. Also, Adaptive Cruise Control is optional in the 2023 Ford E-Transit, which allows drivers near Fresno to set a cruising speed and count on the E-Transit to modify speed and space between you and other vehicles automatically. Other optional technology upgrades in the 2023 Ford E-Transit include Automatic High Beam Headlamps and Enhanced Active Park Assist. You'll also enjoy a Pro Power Onboard mobile power source for convenient tool charging as you do business in town.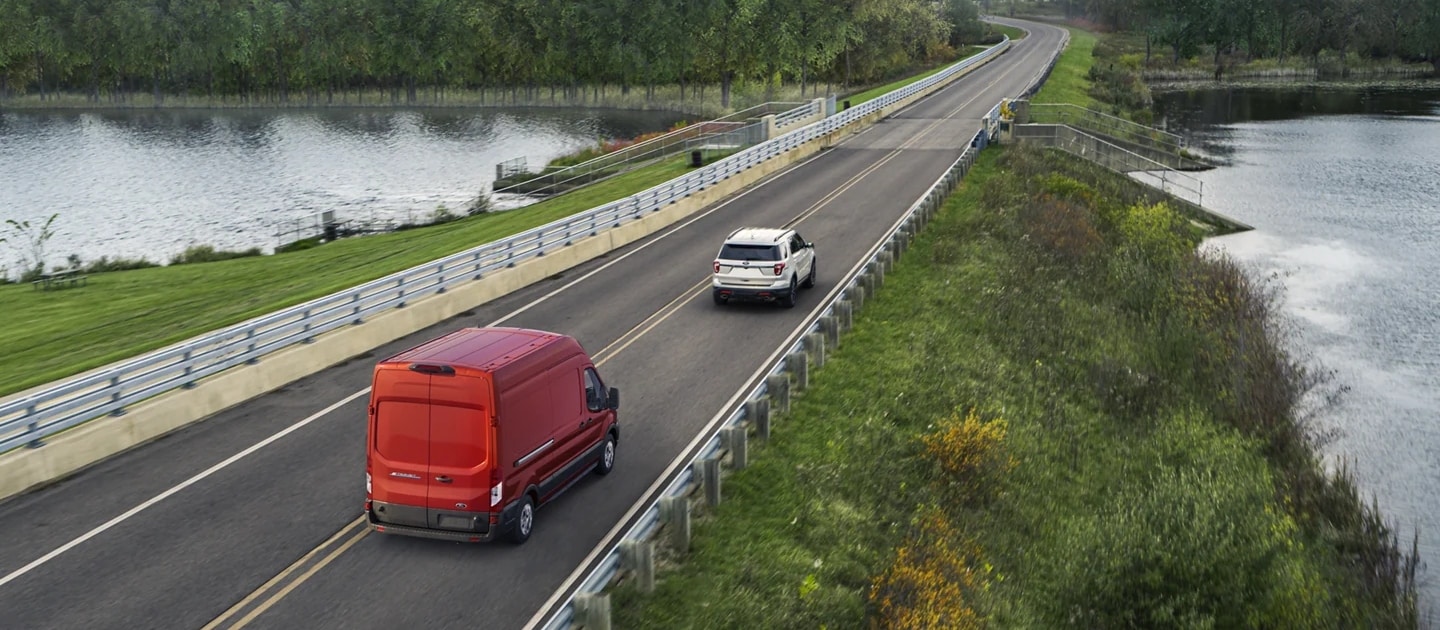 Safety Enhancements
Safety Enhancements
Standard features that cater to the well-being of passengers include safety canopy side-curtain airbags, auto locking drive away with crash unlocking, and an SOS Post-Crash Alert System that sends help your way in the event of a collision event. Also, a tire pressure monitoring system lets you know when your tire pressure gets low before a dangerous blowout can occur. Post-Collision Braking and a Lane-Keeping System are standard safety features in the 2023 Ford E-Transit. Optional features you can include in the E-Transit as upgrades include a Back-Up Alarm and Perimeter Alarm to alert people nearby of your maneuvering, as well as a Reverse Sensing System with Blind Spot Assist 1.0.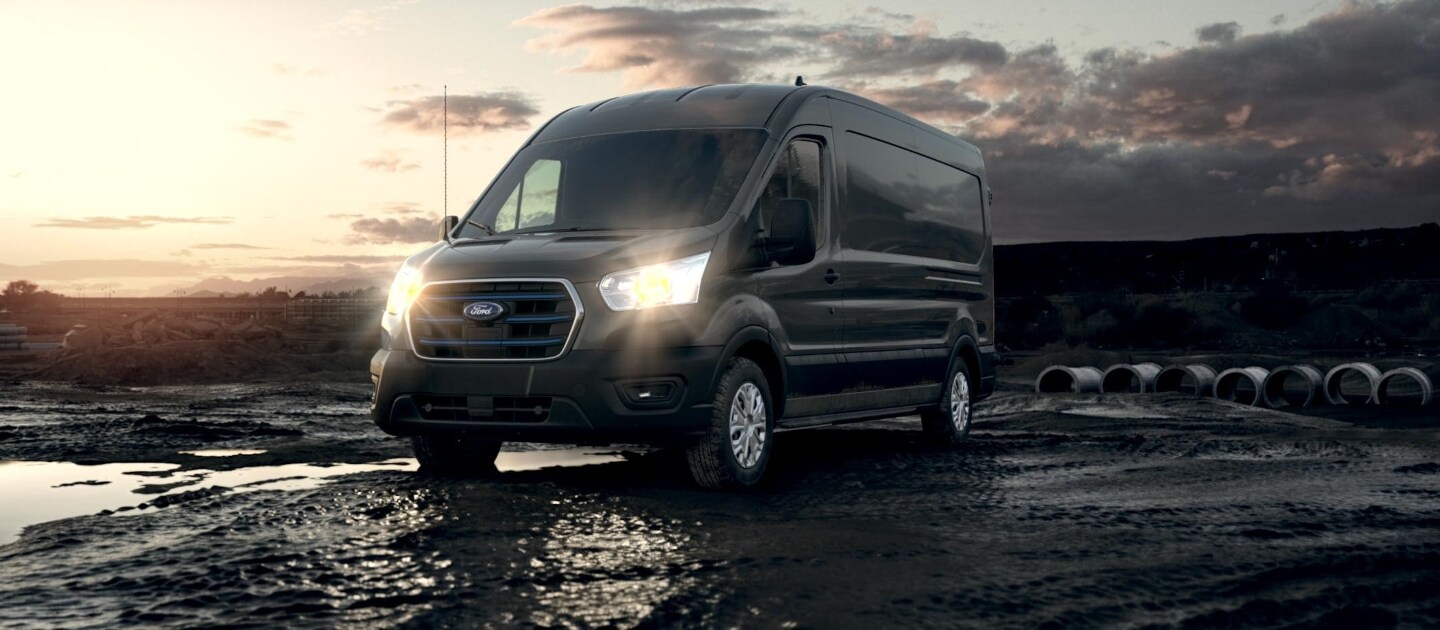 2023 Ford E-Transit Pricing
2023 Ford E-Transit Pricing
No matter which 2023 Ford E-Transit model you choose, each one has an average price that ranges from $51,370-$56,795, with the cargo van layout being more costly than the chassis cab and Cutaway. The cutaway E-Transit will run you $51,370, while the chassis cab comes in at $51,900. Of course, buyers in Hanford may also be available for a 4500 Military Appreciation bonus or a $500 First Responder Exclusive Cash Reward. A $1,000 reimbursement for qualifying adaptive equipment under the Ford Mobility Motoring program may also be available in your 2023 Ford E-Transit purchase from Keller Ford.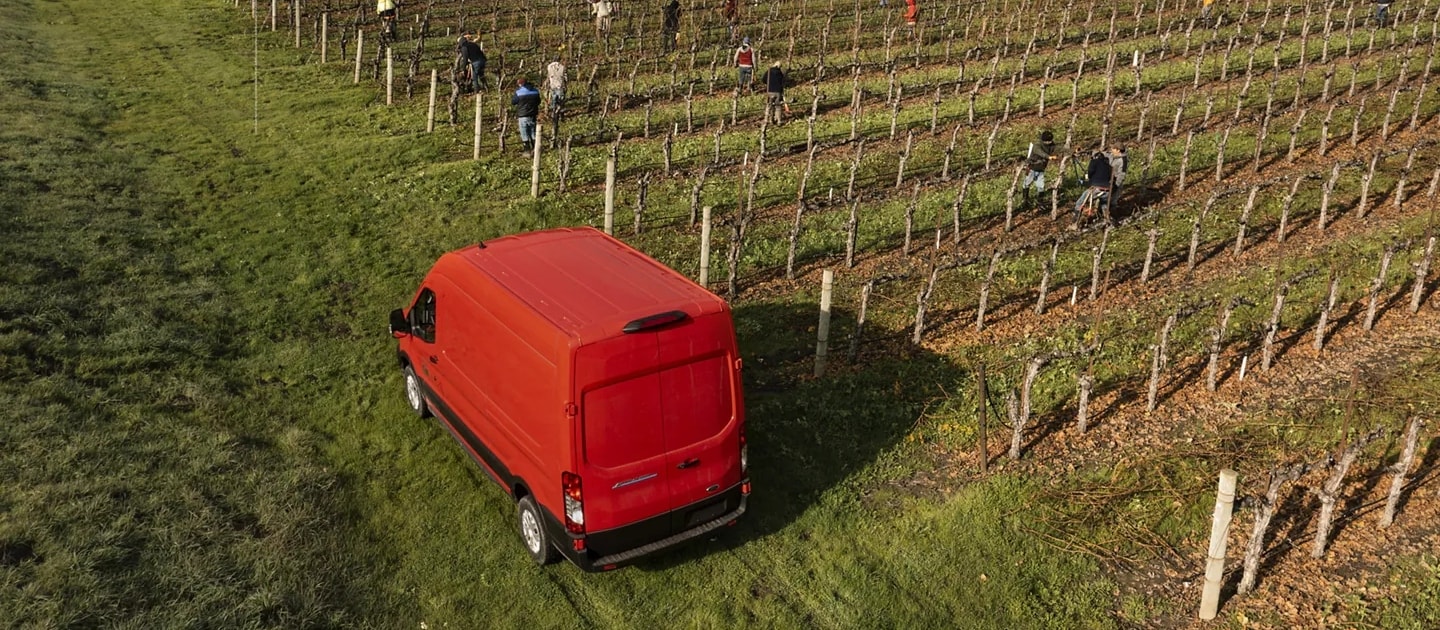 Performance
Performance
The practical and hard-working 2023 Ford E-Transit not only has power but also boasts zero emissions as part of a bigger sustainability movement. Its fully electric powertrain with a single-speed transmission and RWD electric motor are modern and savvy enough to impress any business owners around town. A 68-kWh lithium-ion battery pack with a 126-mile range is available on the cargo van model with a low roof height, while the medium roof averages a 116-mile range, and the high roof has a projected 108-mile range. AdvanceTrac with Roll Stability Control also improves the performance of the 2023 Ford E-Transit during various driving conditions.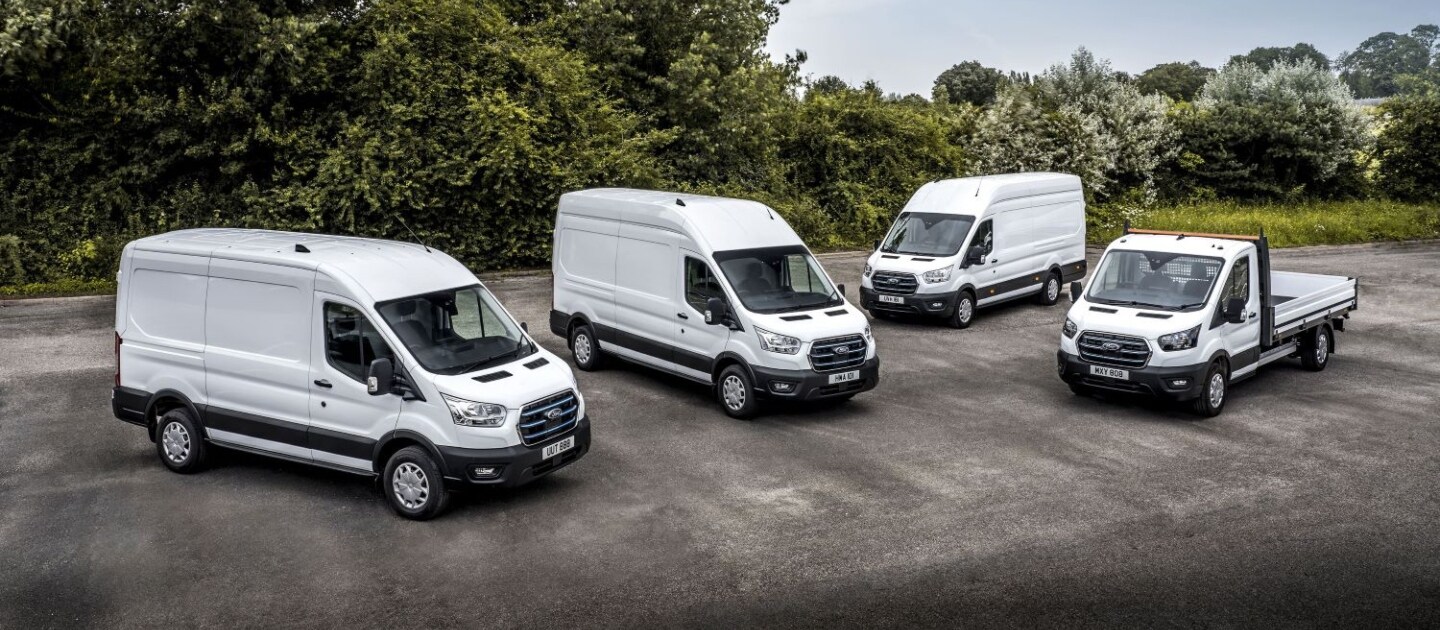 Trim Level Options
Trim Level Options
Trim levels for the 2023 Ford E-Transit consist of the Cargo Van, the Cutaway, and the Chassis Cab. The Cargo Van offers an option between a 130-inch and a 148-inch wheelbase, a 360-degree camera with a split view, and an interior upgrade package. In comparison, the Cutaway offers a standard 178-inch wheelbase with an optional passenger seat delete, rearview camera, prep kit, or LED taillamps for upfitter use. The Chassis Cab offers standard fixed rear cargo door glass, a rear bumper delete, and a modified vehicle wiring system. The choice is yours, and we can show you all the options for the 2023 Ford E-Transit at Keller Ford. Come in to take a look around or take one on a test drive.
Learn More about the 2023 Ford E-Transit at Keller Ford, Serving Tulare and Lemoore
Ford is preparing to launch the Lightning in Spring 2022, but orders are open now, and you can reserve one for yourself through Keller Ford in Hanford. Feel free to contact us at your convenience for more information about the all-new Ford E-Transit and its available configurations, financing, and ordering opportunities. It will be our pleasure to assist you.