Explore Hybrid and Electric Ford Models for Sale in Hanford
Whether you're looking to enjoy a more engaging driving experience, reduce your tailpipe emissions, or lower your fuel costs, there is an electrified Ford model perfect for you. Learn more about what the latest lineup of hybrid, plug-in hybrid, and electric Ford models has to offer before visiting Keller Ford Lincoln today.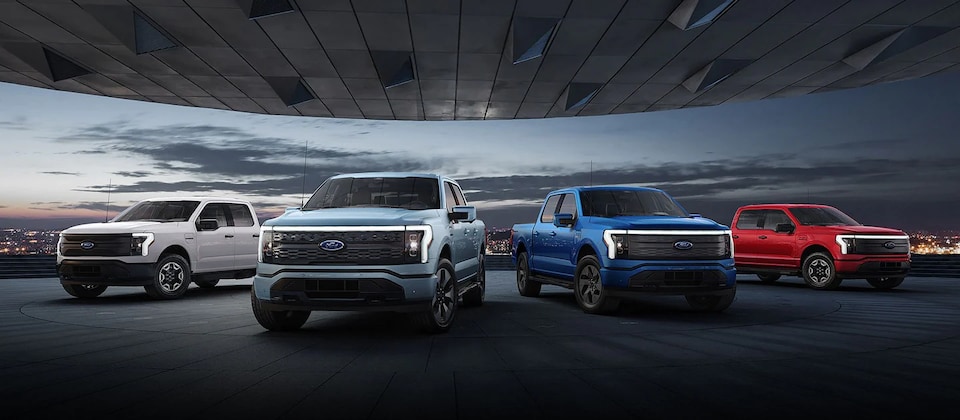 Ford F-150 Lightning
You can now bring home one of the most popular trucks on the market with an all-electric powertrain. The Ford F-150 Lightning reflects what the future has in store featuring powerful performance and capability without the tailpipe emissions. Its two electric motors work alongside all-wheel drive and can move up to 580 horsepower and 775 pound-feet of torque. You can choose from a standard- or extended-range battery to enjoy up to 320 miles of driving range between charges. Plus, its towing abilities still impress with a maximum capacity of 10,000 pounds. Its powerful battery can even be used as a backup generator, powering your house for up to three days.
This electric truck is available only as a crew cab configuration with a voluminous 5.5-foot bed. This spacious four-door model provides roomy passenger space and an extra front trunk. The dashboard features a 12.0- or larger 15.0-inch SYNC® 4 infotainment system with Apple CarPlay and Android Auto integration. This interface is also equipped with built-in navigation and an onboard Wi-Fi hotspot.
Learn More About the Ford F-150 Lightning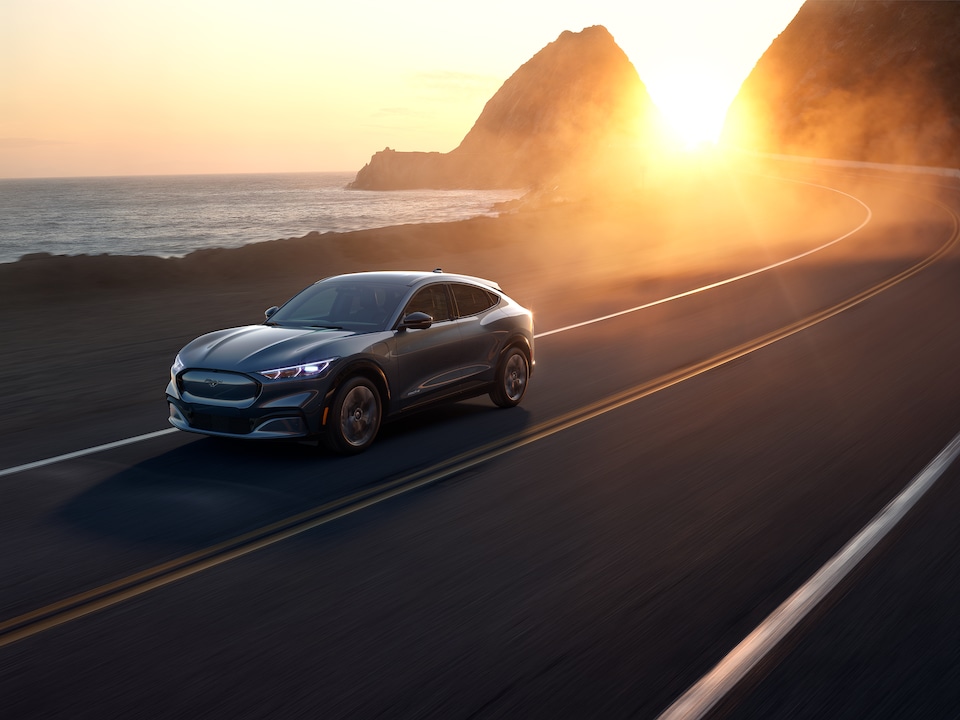 Ford Mustang Mach-E
Boasting an eye-catching exterior design, this new all-electric SUV will turn heads wherever you go. The Mustang Mach-E continues to impress with its powerful electric powertrain available with a standard or extended-range battery. You can command the Tulare roads ahead with up to 346 horsepower and an estimated driving range of over 300 miles. However, driving enthusiasts looking for jaw-dropping acceleration will want to bring home the GT or GT Performance model to enjoy up to 634 pound-feet of torque. Plus, you can optimize your stability and traction with all-wheel-drive capability.
The comfortable cabin is designed to make every long journey more enjoyable and convenient. Alongside spacious seating, you'll find all the latest technology, including a 15-inch SYNC® 4A infotainment system with cloud-based navigation. The interior features convenient storage space alongside a long list of exciting amenities, including ambient interior lighting, heated front seats, and a panoramic sunroof. Meanwhile, you'll enjoy generous cargo space with versatile folding seats and a convenient front trunk.
Learn More About the Ford Mustang Mach-E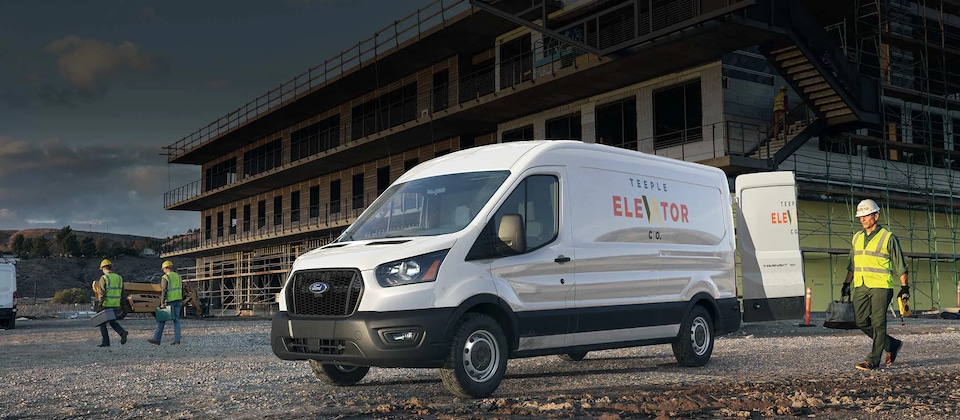 Ford E-Transit
Designed with your company's needs in mind, this new electric cargo van optimizes your fleet's daily efficiency. An electric motor makes 266 horsepower and 317 pound-feet of torque to help you feel confident tackling the city streets or busy highways ahead. Its large battery pack supplies up to 126 miles of driving range between charges, supplying all the power you need to complete the day's work.
For now, the E-Transit is only offered as a cargo van, but you can expect to find a passenger-focused option in the future. Alongside 3,800 pounds of payload capacity, you can choose from the standard- or high-roof models, offering up to 487 cubic feet of cargo space. The streamlined interior features a 12.0-inch infotainment system with the latest SYNC® 4 interface. Your crew can stay connected with a built-in 4G LTE Wi-Fi hotspot and other convenient features.
Learn More About the Ford E-Transit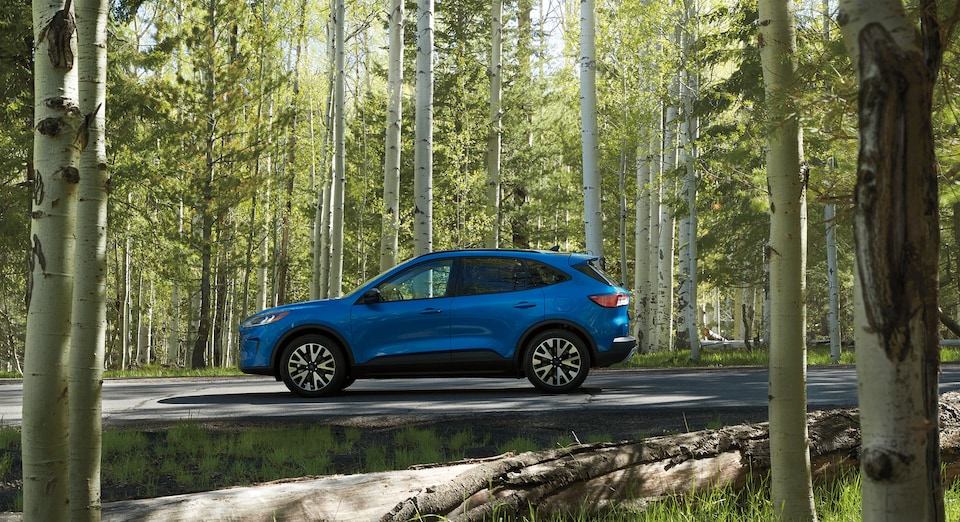 Ford Escape Hybrid & Plug-in Hybrid
If you're in the market for a comfort-driven SUV, you won't want to look any further than the Ford Escape. Amongst its wide range of impressive engine options, drivers can choose the hybrid or plug-in hybrid setup to enjoy enhanced efficiency and performance on the Lemoore roads ahead. Combining a 2.5-liter four-cylinder engine with two electric motors, these powertrains can move up to 221 horsepower. The plug-in hybrid version also provides an EPA-estimated electric driving range of up to 37 miles.
On the inside, the Escape features a stylish cabin with generous legroom and spacious seating. Behind the rear seat, you'll find all the cargo space you need to accommodate your extra luggage or groceries. The rear seats can conveniently fold down when you need to fit larger items. You'll find user-friendly technology throughout the lineup, including a SYNC® 3 infotainment system, a 12.3-inch digital gauge display, and a helpful head-up display.
Learn More About the Ford Escape Hybrid & Plug-in Hybrid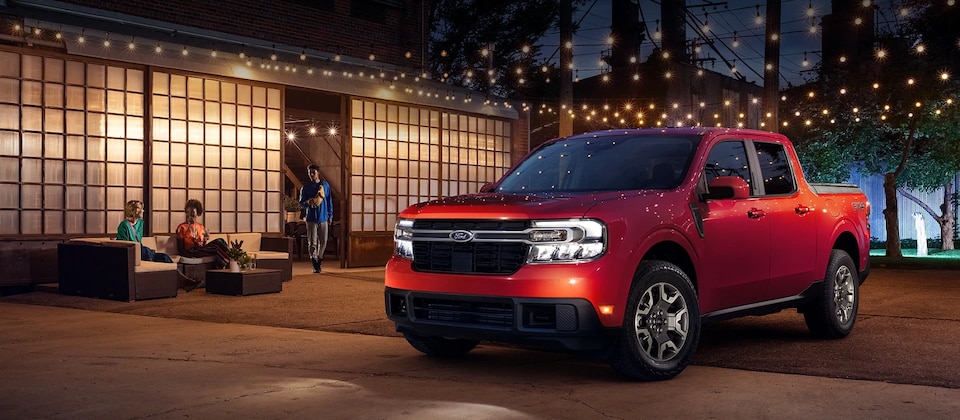 Ford Maverick
Offering incredible fuel efficiency in a sleek package, this hybrid truck is the ideal option for drivers who want the best of both worlds. Its standard hybrid powertrain combines a 2.5-liter four-cylinder engine with an electric motor to move 191 horsepower. You can harness this energy to haul 1,500 pounds and tow up to 2,000 pounds. Plus, it helps you save at the pump with an EPA-estimated 42 miles to the gallon. You'll also find a 250-horsepower gasoline engine on the menu.
Across the lineup, you'll find a crew cab configuration with four full-sized doors and spacious seating. The voluminous 4.5-foot bed can accommodate all your supplies while offering helpful features, like a 12-volt power point. Meanwhile, you can stay connected using an 8.0-inch touchscreen infotainment system with Apple CarPlay and Android Auto integration.
Learn More About the Ford Maverick
Start Shopping at Keller Ford Lincoln Today
If you're ready to enter the world of electrified driving for yourself, we encourage you to visit our Ford dealership near Fresno today. Our experts will be happy to walk you through our current inventory and help you find a hybrid or electric vehicle that fits all your driving needs.